Special Dates (VN)
Set up 'Special Dates' for days, such as bank holidays, when your offices are closed. Your services can be configured to route calls to voicemail on these dates.
The next 'special date' is shown on the 'Configure Service' page.
Set up, amend or view the full list by pressing Configure.

The 'Configuring Special Dates' page shows all special dates that are currently set up for this service.
The drop down list contains all upcoming bank holidays.
Select a special date from this list to set up the times this service will be closed.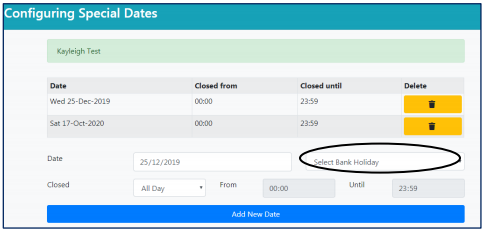 Alternatively, enter a chosen date to set this up as a special date.
This option may be useful for things such as team training days when the office is closed.
---
---