Creating Groups in SMS Broadcast
When sending an SMS Broadcast you can add the recipients mobile phone numbers either manually by typing each one in, you can upload a list of mobile numbers or your can send your text message to the members of a Stored Group.
To create a Group click on the Stored Groups link from the grey navigation bar to go to this screen.


To create a new group select Add New Broadcast Group give your new group a name and click on the Add Group button.
Once you have created your new group you will be presented with the Add Members screen. The best way to add the mobile numbers of your audience is to upload them from a spreadsheet.
To do this select Load from File from the dropdown menu titled Entry Type. You will be presented with the following screen.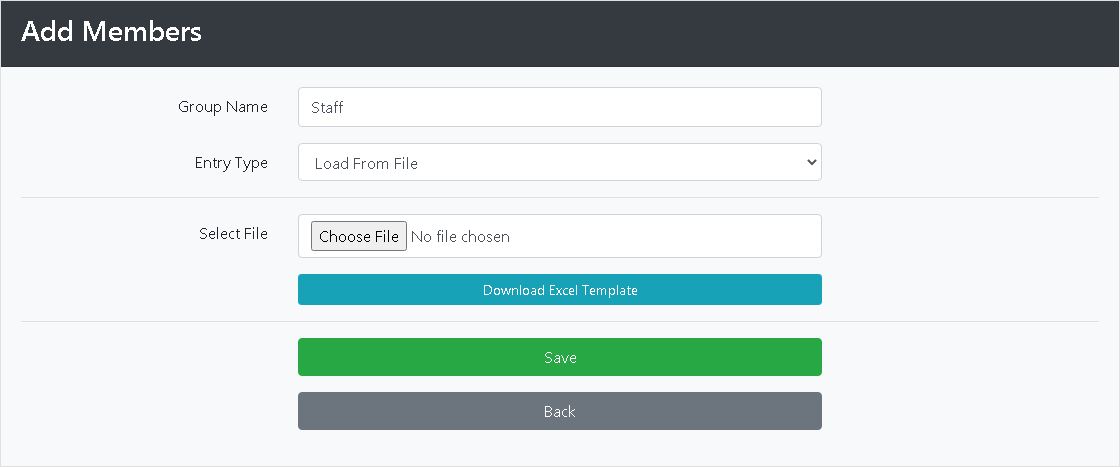 Next click on the Download Excel Template button which will open a spreadsheet in a csv file format that has the header fields required for uploading your file.

The next step is to populate the spreadsheet with the group members mobile numbers. These go in the Mobile column and is does not matter if the leading zeros are missing or if mobile numbers are in the international format 447xxx.
If it is helpful you can add a first and last name for each recipient or for the ones where you have this information. This is not essential though just mobile numbers is fine. You place any other info that may be relevant in the Info1, Info2 & Info3 fields.
Once your spreadsheet is complete save it on your PC or Laptop and upload it to your group by clicking Add on the Group Management screen and then the green Add button next to the group you want to add recipients to. This will bring you back to the Add Members screen. Select Load from File , then Choose File to find your spreadsheet, then just click on the green Save button.
See also: Changing the Originator
---
---