Voicemail (VN)
Calls are automatically routed through to voicemail if they cannot be delivered to an end destination. Failure to deliver may occur because your service is busy, closed or in a special date period. Voicemail can be configured to handle calls in several ways as well as to play an 'Out of Hours' recording and/or request callers to leave a message.
Voicemail configuration is available from the 'Service Settings' page:

Time of Day
Choose between the same voicemail settings for both in and out of hours, or select separate settings for each. If you choose to have separate settings, you will note that the screen changes to show the same configuration options twice in order to allow for two separate set-ups.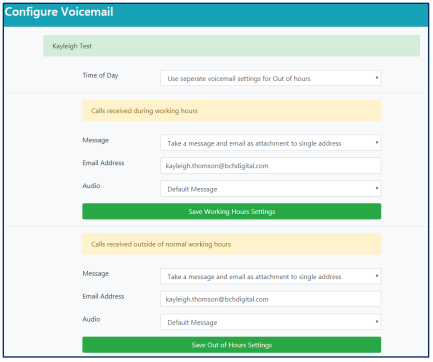 Message
Configure Voicemail shows the many and varied ways you can choose to receive messages. For example, the drop down box allows you to select options, including allowing you to simply play a voicemail, but not take a message; take a message and receive that message via email; receive a message by a link emailed out or sent directly to an FTP server; or to set up SMS alerts for voicemails.
Changing these options will also change the name of the field below. This will change to 'Email Address', 'Email Group', 'FTP Server' or 'Mobile Number' depending on the option selected.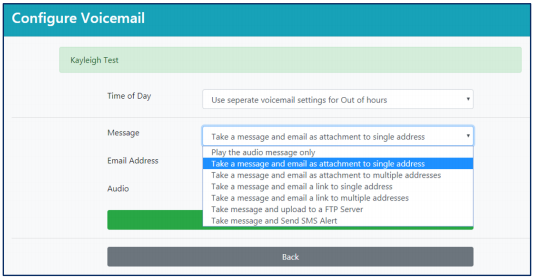 The name of this field depends on how you have chosen to receive voicemail messages. For example, if you selected 'Take a message and upload to an FTP Server', this field would be called FTP server. In this box you will need to enter the details of where voicemails should be sent.
Audio Message
This option lets you choose the audio played to the customer when they are asked to leave a voicemail. This is particularly useful if you have separate voicemail settings for in and out of hours. For example, your 'in hours' option may inform callers that no one is available at the moment, whereas for 'out of hours' you may decide to advise customers that you are closed.
For details on how to add new voicemail messages see Audio Database
---
---